Dear Friend;

My path to successful pregnancy was a challenging journey;

This is the story of how I spent over a year (and over $10,000) trying to get pregnant with no results...

-And the "mind over body" Yoga techniques I eventually turned to which helped me get pregnant on my very first try using them.

Simply put, your mind helps control your body, and your body helps control your mind. Yoga is the connector. (In this case, to get pregnant).
The Catch-22 Of Getting Pregnant:
Trying to conceive can cause your stress and tension level to go through the roof. However...


Your body only believes it's "safe" to get pregnant when you're relaxed and calm.
After using very specific Yoga relaxation techniques, I then got pregnant on my first try. Click here to learn how.


As seen in
Yoga Journal magazine,
October 2008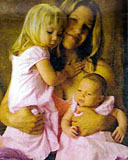 Me, with my now TWO kids (the 2nd was a complete surprise!)